0.1M Sodium Nitrate Preparation and Standardization of volumetric solution as per USP:
Preparation of 0.1M Sodium Nitrate:
Take 1000ml of volumetric flask or bottle.
Add 6.9g of sodium nitrate into it.
Dissolve the sodium nitrate in sufficient water and dilute up to 1000lml of water.
Standardization of 0.1M Sodium Nitrate:
Dry the USP Sulfanilamine RS at 105°C for 3hrs.
Weigh about 500mg/0.5g of USP Sulfanilamine RS.
Transfer into the suitable beaker.
Add 20ml of hydrochloric acid and 50ml of water.
Stir the solution until dissolved and cool to 15°C.
Maintaining temperature at about 15°C, titrate slowly with sodium nitrate solution.
Determine the end-point electrometrically, using a platinum-calomel electrode or platinum-platinum electrode.
17.22mg of sulfanilamide is equivalent to 1ml of 0.1M sodium nitrate.
Calculation formula of 0.1M Sodium Nitrate:
Molarity of Sodium Nitrate = W / 172.2 x V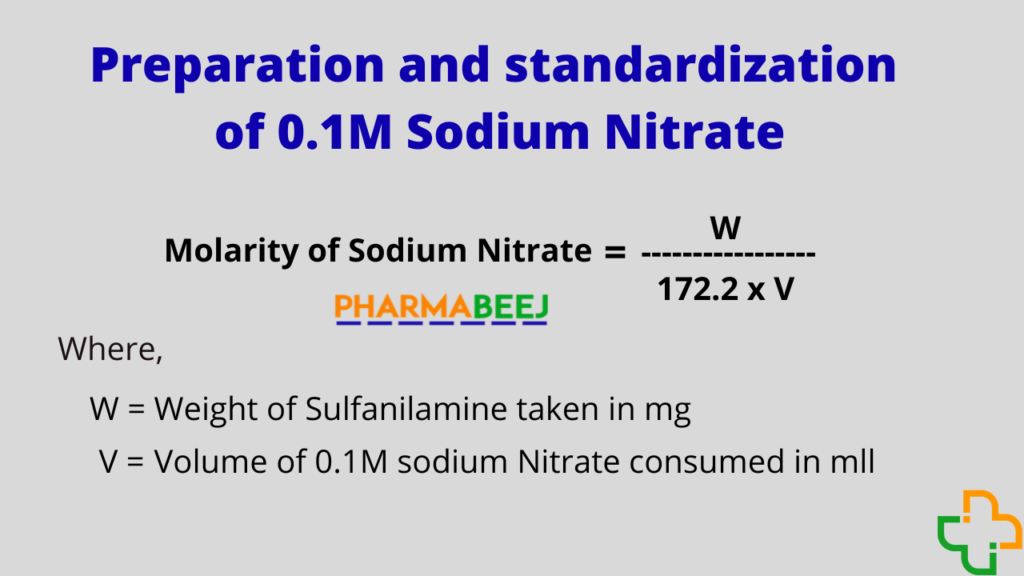 Safety Instructions of Sodium Nitrate:
Sodium Nitrate is very hazardous in case of eye contact (Irritant), ingestion, or inhalation.
Hazardous in case of skin contact.
Prolonged exposure may result in skin burns and ulcerations.
Overexposure by inhalation may cause respiratory irritation.
Severe over-exposure can result in death.
Inflammation of the eye is characterized by redness, watering, and itching.
Also Read:
Refer YT Channel: Pharmabeejpro