Operation of Refractometer:
1.Objective:
To lay down the procedure for Operation of Refractometer.
2. Scope:
This SOP is applicable to Quality Control Lab .
3. Responsibilities:
Role
Responsibilities
Department
Analyst
For Operation of Refractometer
Quality Control
QC Head/
Designee
To Ensure compliance of SOP
Quality Control
AQA/
Reviewer
To review or verification of audit trail
Quality Assurance
Plant IT
To create/Enable/Disable of User ID's,
Creation of Monthly folder, Data backup,
Data archival and verification of stored electronic data.
IT Team/ Manager
Operation of Refractometer
4. General Instructions:
Wipe the instrument with lint free cloth till visually clean.
Ensure the power supply connected properly.
Do not overfill the sample well.
Ensure there should not be air bubble on prism on pouring the sample.
After measurement sample must be removed and wipe off with tissue paper.
After wiping off the sample from well, wipe again with water incase water base sample.
For Non-water base samples wipe with organic chemicals like Isopropyl Alcohol, Acetone, or Ethanol.
Procedure for Operation of Refractometer:
Name of the Instrument: Refractometer
Make: Anton Paar
Model: Abbemat 550
1.Switch ON the instrument by pressing the power switch, located on the backside of the instrument.
2.After initialization the main menu display will be shown as below;
3. Log on using the individual User ID and password provided to the employee.
4. After logging, the initial display shows as shown below,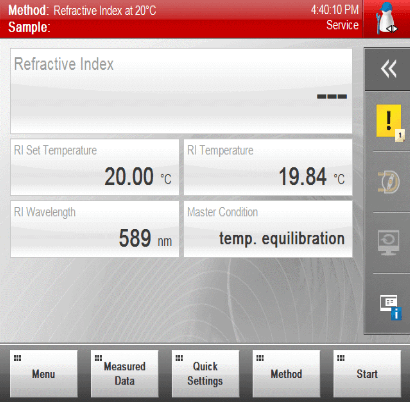 Procedure for creation of Method in Refractometer:
1. To create a new method, tap on Menu button below screen displays,
2. Select Method then below screen will display.
3. Select method management from above screen, below screen will display,
4. Preferably select Refractive Index method from the above screen and press COPY the below screen will display,
5. All new method shall be created with the same method name as the original one and an additional number in the bracket as shown in the blow scheen.
6. Enter the new method name and tap OK.
Performing Measurement:
Take a liquid sample with clean dropper.
Carefully placed 3-4 drops of sample in circular polished measuring surface of Refractometer Prism.
Wait until the sample has attain the set temperature.
Tap on Quick setting key on the main menu.
instrument prompts for the sample name and A.R. No.
Enter the required fields and click on ok.
Then tap on START key on main menu to start the analysis.
Once the measurement completed progress bar turns green the massage FINISHED is displayed.
Printing Result:
To take print, tap menu bar.
Select DATA Memory.
Select the measured data from the screen.
Select required data and tap Print.
Select Print Report format and tap OK.
Procedure for Data Backup of Refractometer:
To take a backup of measurement data, connect a USB device to the instrument.
Then select the option export data (PDF/EXCEL/TEXT file).
Instrument prompts for a file name for the backup file.
Then select the required format and press OK to continue.
The measured data will saved to USB device.
Also Read:
YT channel: Pharmabeejpro